HXTL Supply Full Lace Human Hair Breathable Hair Pieces For Man
HXTL Supply Full Lace Human Hair Breathable Hair Pieces For Man
H&H HAIR

CHINA

WITHIN 48 HOURS UPON PAYMENT
Affordable and durable all French lace hair pieces for men.
The all french lace hair pieces are completely undetectable and breathable.
Use only high quality 100% human hair for good texture to sight and touch.
Size: 5x7'', 6x8'', 6x9'', 7x9'', 7x10'', 8x10''
Our stock all french lace hair pieces for men are made with a full soft Frech lace base, with spider stitching lines all over, which adds durability to the cap. These reinforced stitching lines also help to keep the systems shape and contour.
The natural looking full French lace hair piece is compised as the lightest weight and most transparent hair system that a man can wear today. It's breathable and invisible completely, so it's a best choice for wearer in hot weather.
All the knots on this stock toupee are very delicate and tiny. It's available to do knots bleaching all over, which makes the knots of dark hair invisible and undetectable. We do single knots and irregular knotting method on the first 1/2". Along with the slightly bleached knots here, it creates a natural front hairline.The way the hairline hair looks is a work of art.
Made with 100% original human hair, the finished hair is exceptionally nice both to sight and touch, less likely to tangle.
SPECIFICATION:
Base Construction:
Full French lace base with stitching lines for better shape and extra durability
Hair Type:
100% Indian human hair
high quality real human hair
Hair Length: 5-6''
Hair Density: Medium Light
Waves & curls: 2.5cm
Hair Direction: Free Style
Frontal Shape: CC
Hair Color: available in over 50 natural colors
all grey under 40% is synthetic
40% grey and over is available with human or synthetic grey
Base Size: 5x7'', 6x8'', 6x9'', 7x9'', 7x10'', 8x10'' ( can be cut down to any size)
Useful time: 2-3 systems per year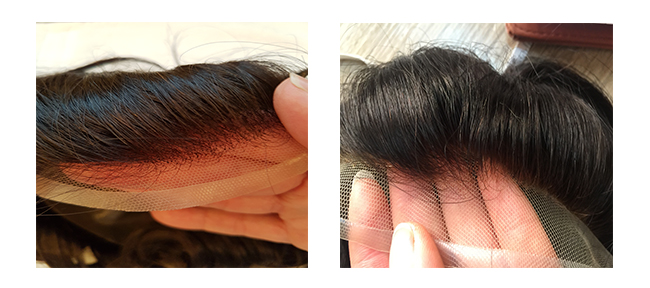 Our perfect bleaching technique lightens the color of the knots in darker human hair and makes them virtually invisible, as if the hair is just growing right from your scalp. It gives your hairpiece a very natural-looking and realistic appearance.